desktop tray sealing machine lunch box sealing belongs to automatic plastic tray box sealing equipment, the whole machine is made of stainless steel 201. Simple and reasonable structure, sealing of high efficiency and easy operation; Suitable for various sizes of plastic boxes, plastic trays and special-shaped plastic containers thermal sealing, it widely used in pharmaceutical, cosmetic and food industries.
Technology of fast food lunch box plastic tray sealing film machine desktop tray sealing machine
Voltage(V) AC110-220V/50-60Hz
Power(W) 800W
Cup sealing sizw (mm) 50-250mm as customer's requested
Packing speed(cups/hour) 800-1000
Sealing materials PP,PE,PET,PS and etc.
Working temperture 0-300 ℃
Air pressure range 4-8kg/cm2
Gross Weight(kg) 60kg
Package Size(mm) 700*650*750mm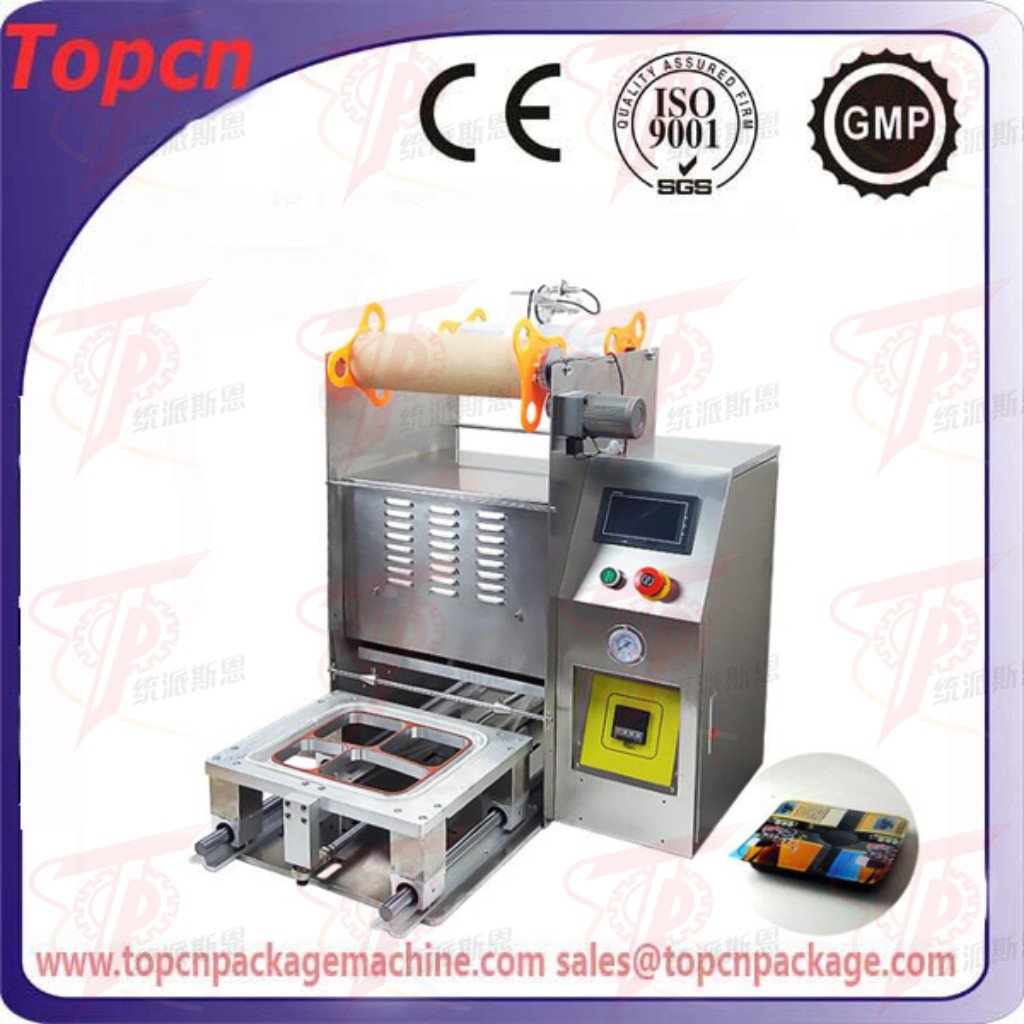 Lunch box sealing machine advantage:
1, the whole machine adopts 201 stainless steel and aluminum alloy material, according to requirements of the GMP for food;
2, adopts pure electric drive with air supply, suitable for small businesses, restaurant, hotel, shop supermarket and canteen management place;
3, LCD display control the sealing temperature and sealing time, photoelectric sensor film location tracking, after sealing design accuracy;;
4, automatic sealing process, saving manpower, improve the sealing quality.
5, different material, different thickness of a thermal sealing material all can use
6, optional code printer, timing roll of film and other functions;
7,desktop tray sealing machine lunch box sealing can be used with a variety of equipment collocation, such as liquid filling machine, paste filling machine, filling packing line etc.;
8, the size of the special specifications can be customized.
Display of desktop tray sealing machine lunch box sealing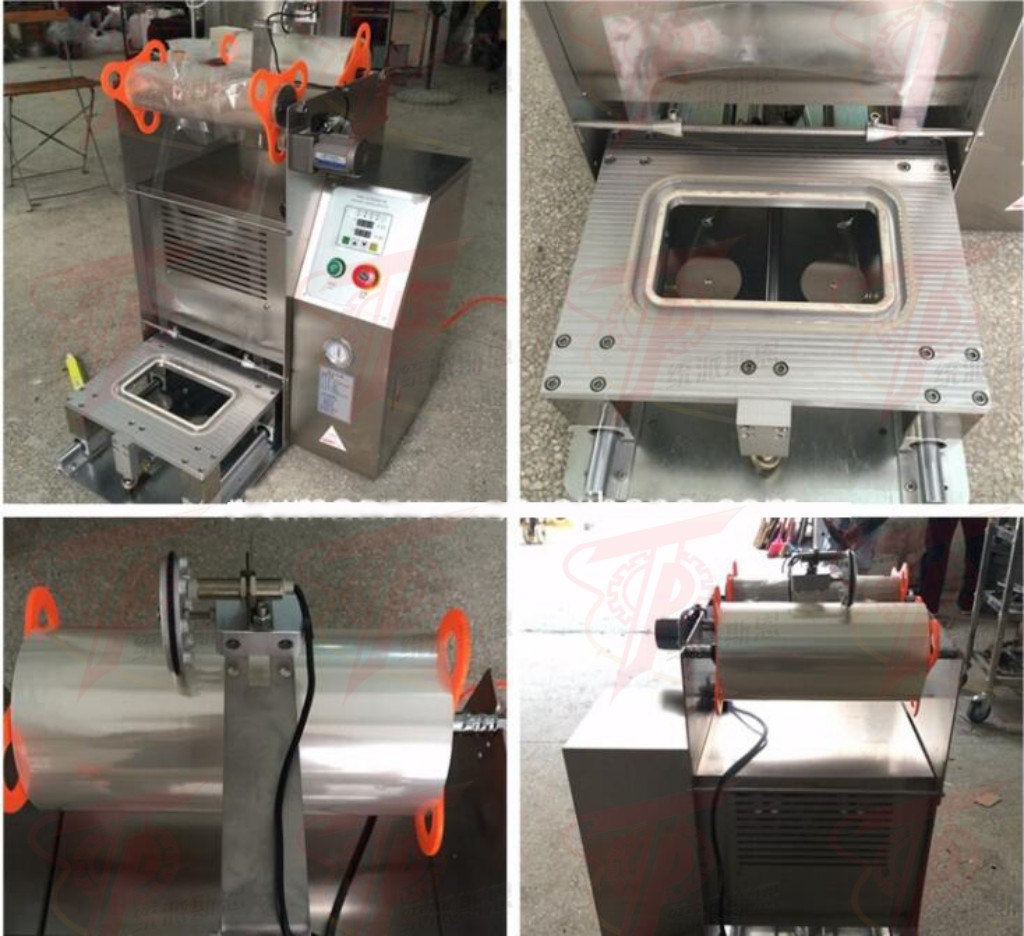 Fast food lunch box plastic tray sealing working principle
The use of heat sealing principle, through the electric heating tube on the sealing mold heating, while the thermostat on the sealing mold temperature control, the temperature of 50 ~ 300 ℃ adjustable, when the plastic mold with the base mold into the machine, the machine automatically Induction and through the motor on the sealing mold automatically under pressure, so that plastic film and plastic box contact with the heat fusion, the use of the shape of the box to create the cutter will remove the excess sealing film, in order to achieve the perfect sealing seal.
Package samples desktop tray sealing machine lunch box sealing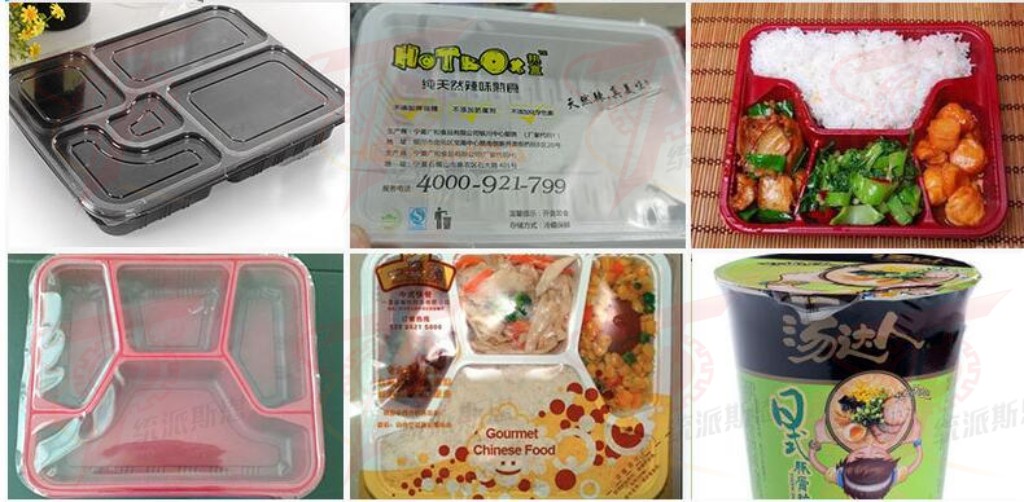 Certification & Factory Photos